Sela's Vespa Von Buck
Notes
Pink purple collar at birth. First pup in litter born. Black pup. Black nose at birth. No white. Smokey colored mouth/muzzle and chin. Silver/black or a lighter color up legs.
6-28-19: eating and growing well. still one of the largest pups. Tiger Stripping showing up on head and some on neck as they get lighter in coloring. Still very black on dorsal. I did not think this pup very large. It was wet when we brought it out from under the outhouse den. Sela must have just had it. pup was cold, ground was cold and wet. Large and girthy light silver showing patterns on neck and shoulders.
6 -29-19: a no nonsense pup. Goes right to teat, eats then sleeps. No issues finding food and mom.
7-7-19:  Pink collar pup. Very large female with a bit of attitude, but nothing i cant change. She is bold yet thinking. Strong in her will at this time. a survivor. Beautiful coloration of the dire wolf. Should look as nice as her sire. Small head though, but i can breed that out in next generation. So i am thinking of keeping her. We shall see.
2-11-20:  Vespa is the perfect female at this age. She is loving, kind and comes to me willingly. She needs more training and on the leash one on one. She learns fast. Gets upset with the leash and collar as she has been a 'free' dog all her life, lol. oh well. Like i said, she learns fast how to stop the choker from tightening up and figured out that to come to me is to be free.  She has a long coat with some curls and the winter thick under coat. Waiting for her to come into season. I think she will breed. Crossing fingers. She has been tested and passed all scores. DNA shows no issues either. We shall breed her with one of the mastiff males.
Health Record
Born on June 25 2019 at 815 pm
No pano as of 2-11-20. Her brother Lone star had a touch of pano in the rear left leg. Dad had Pano. Some of her siblings had kidney issues. She has been tested and is free of all issues.  I will be watching her pups closely.
May 2020: Blood testing for kidneys BUN level, normal. Ultrasound of kidney's, normal.
Photo Gallery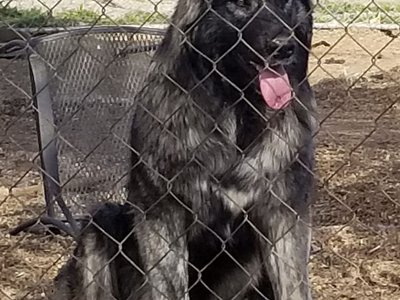 Vespa the DireWolf
Vespa as a pup.
Litters
Winston X Sela's Vespa Von Buck
---
---
Winston X Sela's Vespa Von Buck
---
---
Winston X Sela's Vespa Von Buck
---
---
Winston X Sela's Vespa Von Buck
---
---
Winston X Sela's Vespa Von Buck
---
---
Winston X Sela's Vespa Von Buck 2020
---
---