Elsie's "Joker" von Pepper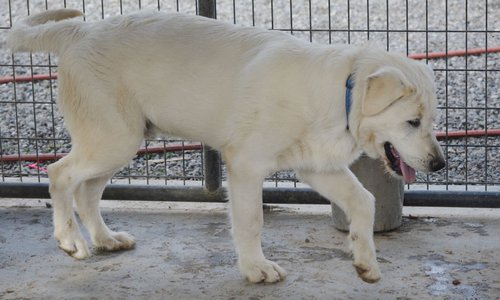 Notes
Birth notes: The jokes on me. This pup came out my first cream/white pup and i could see him in the sack. Mom had a hard time passing him he was very large. Sack did not break so i had to get him out. Thick and tough sack. Largest pup i think i ever had? I never thought i would get this pup out of this breeding. I needed to keep this guy for his genes.
Active boy, massive feet and structure. Will be a big boy 130 lbs. Wants to please as he simply loves people!
Tad bit of prey drive, needs consistency in training as do they all.
​This pup resembles a Labrador or white Mastiff. Large head. Should reach 130 lbs at full maturity. He is a fun loving dog. Loves all people and will be the talk of the town!.  What ever anyone is doing he will want to investigate. He will be a lifetime friend to any child. He will protect your children with his looks alone and he will babysit them 24/7. He will sleep with them or check in at night to see that all are sleeping and are in their beds. He will alert you of any prowlers or when something isn't right. You could not ask for a better pup. Bred for human families and not a 'working' dog.
Will make an excellent stability dog. Can fetch items for you if trained.
Health Record
Shots: DHALP+CVK
7/18/2021; 8/1/2021
Worming: NemexII
7/4/2021; 7/18/2021; 8/29/2021
Photo Gallery