Neera's Solana Von Warleggen
Notes
Congratulations to Mark and Heidi! I can't wait to see her grow up and you guys live so close that I hope to travel to see her often!
7:18 pm black hybrid? Nose is brownish black white chin white chest pink nose pink lips binkish brown silver up legs black and silver white tipped tail female (brown hair tie).
7/26/2022 Ate their first puppy food yesterday. This girl LOVES her food. Not rushing to eat, but will eat her fill. Solid pup, great confirmation, head is a bit small, but a cute little bear.
This gal is intelligent. She thinks about thinks and moves to what she wants. When she can't figure the situation out, she gets frustrated. Lol
A firm, solid hand on her so that she really "feels" what you want will be good for this girl. Very smart like her mother. Great with kids, cats, farm life or busy life.
8/9/2022 This pup is coming along exactly as I expected. Very soft puppy. Doesn't need anything in life but you, and her bed and food. Content to ignore commotion, not a huge fan of lots of people, but won't mind it, just won't get up to see it initially. This pup, along with her sister Orange collar, are my favorite pups. These guys will watch you from the other room while you clean, work, run around, etc and when you're ready, they will come to you and patiently wait for the attention you both need.
Medium/shorter hair, but soft and easy to rub your hands in. Softer undercoat like their mom. Very nicely put together pup. She won't be too big, 110 at the most? but she is going to stop traffic. Soft eyes and she will be easy to train, as long as you give her a few seconds to process what you want. In this, she is like her father (Mastiff). She will not ignore you, but rather dismiss your urgency or lack there of if she is lying in the cool grass under a tree. LOL, she just won't want to be bothered.
8/25/2022 This gal is a hoot! She has personality and brains and boy is she pretty! Nothing bothers her, she is attentive and though she might wander, she is ALWAYS ready to head back to your arms when you're ready. Velcro, and wants to be with you. Super smart and picks up on things (emotions, tone of voice) very quickly. Solid pup, though she will most likely only hit 95 to 112 lbs, her confirmation will show her as the solid pup she is!
8/29/2022 This girl is growing so fast. You can see her minding thinking about things! She is quick to learn and loves to please. Currently food motivated, which is a great benefit for easy crate training! I can't wait for her new family to get to spend their time with this beautiful girl when she leaves this weekend.
Temperament Scores: Read this page!
Birth - 9.6
2 weeks - 9.2
6 weeks - 9.2

Health Record
Worming:
Nemex II 8/10/2022
SafeGuard - 8/28 -9/2/2022 for Giardia and Worms
Shots:
8/22/2022 Duramune Max 5 (1/2 shot)
9/02/2022 Duramune Max 5 (Full Shot)

Weight:
7/12/2022 .99 lbs
7/19/2022 2.03 lbs
7/28/2022 3.08 lbs
8/10/2022 6.4 lbs
8/22/2022 9.6 lbs
8/29/2022 13.4 lbs
Photo Gallery
7/19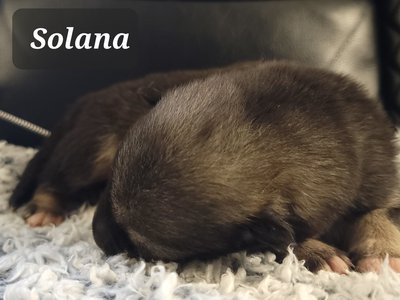 7/19
7/19
7/12