Pebbles Piper Von Pepper
For Sale: $5200.00
Notes
9/30/2022 Forward, friendly pup. Head shy right now, but he will grow out of this quickly. Food and mom are still number 1, but quickly realizing that food comes from people now too!
9/18/2022 Active, inquisitive and busy mind on this boy. Food and mom are number one at this point and though he doesn't mind you bothering him, he has much better things to do than us right now!
9/6/2022 904 male puppy 1.41 lbs black/dark silver (reverse black) with sable (zebra markings up front labs) butt first. White chest. One white back right 3 outside toes and back of ankle.
Health Record
Weight:
9/9/2022 1.41 lbs
9/9/2022 1.55 lbs
9/12/2022 1.97 lbs
9/18/2022 2.10 lbs
9/30/2022 4.35 lbs
Photo Gallery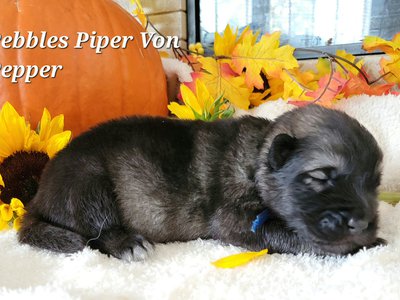 9/18/22