Kip's "Tiki" Azteca Von Draygo *Founders Female Standing at Schwarz Kennels*
Notes
*If you are interested in knowing more about this female, or her upcoming puppies see here: Schwarz Kennels - Tiki

Interested in:

Kayla Exum
Stacy Gee
Notes on Tiki:
8/2021 In heat. Bred with Warleggen. No pregnancy.
2/2/2022 Tiki in heat. In with Noodle but dont think Noodle was ready. She should be back in heat in July/August.
6/7/2022 In heat. Bred to Pepper 6/7, 6/8, 6/9 and 6/10. Due 8/7-8-11
Birth: Is this pretty easy going right here? This looks like a keeper.
Not as laid back as Blu Apache but i don't need a laid back dog in this pup. I want a solid stud with some go power. We shall continue watching this boy.
11-24-20: Found out this guy was a girl last week. Not a forward outgoing pup. Standoffish but not shy. Takes her time to think. Is LEARNING and paying attention to things. looks like she also has slanted eyes and no stop. I shall wait until the six week mark to choose my breeder keepers.
12-1-20:  Put this pup in with Sela since her pups are all gone. Kip is also gone to new home.
They are all doing well and eating good.  This pup is now coming forward. Knows where the food comes from. Thinking of keeping this pup of course. Coat is getting fluffier.
Health Record
HEALTH RECORD ON TIKI:
Nemex II 11/14/2020, 12/3/2020
Duramune Max 5 - 12/27/2021
Photo Gallery
6/30/22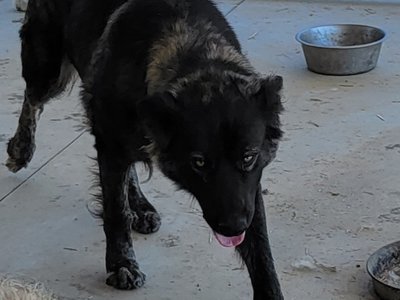 6/30/22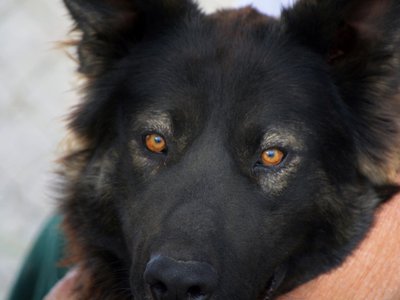 Tiki Pup
Litters
Warleggen X Tiki 2023
---
---
About the Litter (American Alsatian F-3)
Interested:
10-16-2021 Mandy Erasmus
2-22-2022 Ben and Josie Sheehan
5-21-2022 Sarah Hixson
8/27/2022 Tiki and Warleggen have always been best buds, so Tiki is in with him and will be so from here on out (or until she tires of him! Lol)
She plays with him and gives him crap and the next time I see them sleeping together, hopefully I'll have my phone on me so I can get a picture!
I cant wait for these pups. :)
8/7/2022 Unfortunately, Tiki seems to have either had a false pregnancy, or absorbed her puppies. We are not sure, but she does not have milk and shows no sogns of being pregnant. As she has had a false pregnancy before, this could be the case again. Lois will decide if she will be trying to breed her again on her next heat.
6/2022 Bred with Pepper in June.
---
---