Kip's "Tiki" Azteca Von Draygo
Notes
Interested in:
Kayla Exum
Stacy Gee
Notes on Tiki's adult heats:
1/20/23 Tiki is in with Stan Lee (she is not in heat yet). We will see if she can produce pups this time.
10/09/2022 Tied with Warleggen... maybe June was a false heat... this would make sense, as her June heat was strange and early... THOUGH, her inconsistent heats could be what is causing false pregnancies?
6/7/2022 In heat. Bred to Pepper 6/7, 6/8, 6/9 and 6/10. Due 8/7-8-11
2/2/2022 Tiki in heat. In with Noodle but don't think Noodle was ready. She should be back in heat in July/August.
8/2021 In heat. Bred with Warleggen. No pregnancy.
NOTES ON TIKI:
12-1-20:  Put this pup in with Sela since her pups are all gone. Kip is also gone to new home.
They are all doing well and eating good.  This pup is now coming forward. Knows where the food comes from. Thinking of keeping this pup of course. Coat is getting fluffier.
11-24-20: Found out this guy was a girl last week. Not a forward outgoing pup. Standoffish but not shy. Takes her time to think. Is LEARNING and paying attention to things. looks like she also has slanted eyes and no stop. I shall wait until the six week mark to choose my breeder keepers.
Birth: Is this pretty easy going right here? This looks like a keeper.
Not as laid back as Blu Apache but i don't need a laid back dog in this pup. I want a solid stud with some go power. We shall continue watching this boy.
Health Record
HEALTH RECORD ON TIKI:
Nemex II
11/14/2020, 12/3/2020
Duramune Max 5
12/7/2020, 12/21/2022, 1/18/2022, 12/27/2021
Duramune Max 5-CvK/4L F7DB
12/12/2022
Photo Gallery
6/30/22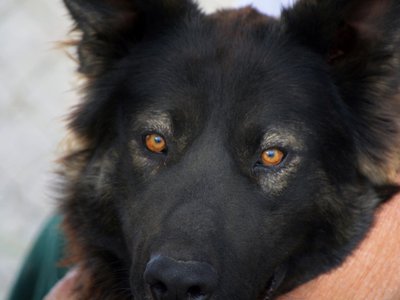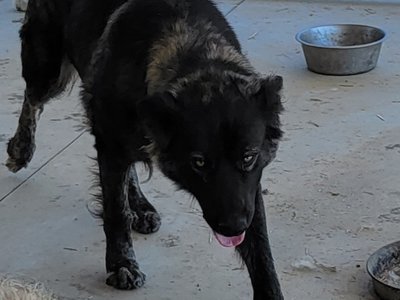 6/30/22
Tiki Pup
Litters
Warleggen X Tiki 2022
---
---
About the Litter (American Alsatian F-3)
Interested:
10-16-2021 Mandy Erasmus
12-30-2021 Shayla Mccaul
2-22-2022 Ben and Josie Sheehan
5-21-2022 Sarah Hixson
6-5-2022 Angela Haar
12/05/2022 And yet again, she does not seem to be pregnant. Sorry guys.
11/20/2022 I know, she hasn't had puppies yet… but I'm thinking we might have hit the lotto? Keep your fingers crossed!
10/26/2022 She looks PG to me. We will keep an eye on it and see!
Update: Tiki and Warleggen tied today 10/9/2022, 10/10 and 10/11... this would make more sense as her last heat was/should have been in Feb... but she came into heat again in June? Like I have told everyone so far... don't hold your breath on this litter until we see them born. This may be the last time we try to breed her, as she has so far been unsuccessful. We will keep 2 pups from her litter if it is confirmed as we did with Alpine, to keep the slanted eyes and strong up ears and solid yellow eyes. Brindles/Dire Wolf looking pups will be HIGH in price for obvious reasons... we need them to further the line.
TIKI x WARLEGGEN Predictions:
Large, solid boned litter with a few lighter bones mixed in. Slight prey drive possible in the lighter more forward pups from the Elwin lines.
All pups WILL HAVE UP EARS and yellow eyes. Brindles/darks should be the mix. We may have one cream/red like in the Napkin litter, and the dark pups will lighten. If they are true brindles, they will lighten but only slightly.
These pups will be for experienced owners or those that understand intelligent minded dogs. Tiki is a beautiful dog, but has a mouth on her. A few of her pups may be talkers, but it will not be excessive and never without reason.
Velcro pups, lovers of hugs and family time. 2 pups will be reserved and fit in quite homes, the rest should be good for families with scheduled light commotion. :)
8/27/2022 Tiki and Warleggen have always been best buds, so Tiki is in with him and will be so from here on out (or until she tires of him! Lol)
She plays with him and gives him crap and the next time I see them sleeping together, hopefully I'll have my phone on me so I can get a picture!
I can't wait for these pups. :)
8/7/2022 Unfortunately, Tiki seems to have either had a false pregnancy, or absorbed her puppies. We are not sure, but she does not have milk and shows no sogns of being pregnant. As she has had a false pregnancy before, this could be the case again. Lois will decide if she will be trying to breed her again on her next heat.
6/2022 Bred with Pepper in June.
---
---
Stan Lee X Tiki 2023
---
---
About the Litter (F4 American Alsatian)
Interested:
11-30-2021 Stephen Councilman
---
---