Neera's "Stan Lee" Von Tudor
Notes
7/1/23 Congratulations to Ava! I can't wait for you to get this boy home!!
2/11/2022 Stan Lee brings a few truly wonderful things to the breed. He has striking yellow eyes already at this young age, as well as that they are slanted. Add this to his Wolf Sable coat color, and you have a strong winner to continuing to move forward on large, heavy/girthy, yellow eyed Dire Wolves. His ears are weaker than we would like, but they will all be up in his offspring. We will breed him to gals that do not have his double thick coat as well, to ensure that shedding is easier in the future. Can't wait for him to keep growing!
12/24/2021 - This litter is super quiet. Very pleasant to be around, thinkers and all very bold and uniquely colored. Keeper?
12/26/2021 Not the heaviest bones, and not the largest in weight, bu certainly the thinker of the group. This man has all of the characteristics of a long line of AA's but will have the look of his father and the thicker mane as well, all with up ears! The masks come straight from the Ana line.
1/1/2022 Fantastic pups, all of them. This boy shows all of the qualities of the Dire Wolf. Yellow eyes, up ears, solid confirmation. At three weeks, these guys are still seeing shadows move faster than their eyes can react, and their hearing is only getting better every day, but this boy hears your voice and follows it to you.
1/7/2022 Velcro, loves people, waits at your feet to see what you want.
12/29/2021 4.8 lbs
1/10/2022 7.4 lbs
1/17/2022 9.2 lbs
1/26/2022 14.6 lbs
2/3/2022 18.2 lbs
2/3/2022 18.6 lbs
7/29/23 *Coming Soon!*
Temperament Test 3.5 Weeks - 9.5
Interested:
2/4/2022 Ava Zeppa (Interested if/when he becomes available after breeding).
Health Record
1/17/2022 3/2/2022 Nemex II
1/19/2021 Corona
2/2/2022, 2/19/2022, 7/15/23 Duramane Max 5
Coming Soon 7/29/23 Rabies From Crater Animal Clinic
Photo Gallery
Stan Lee March 2022
1/10/2022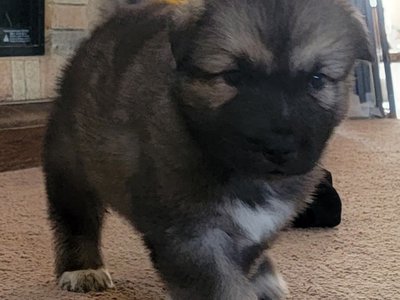 1/10/22
15 days.
Mr Stan the Man! 1/1/2022
I have places to go... to my mom! 1/1/2022
1/1/2022
Growing boy.
15 days and going strong!
6 Days Old
6 Days Old
6 Days Old
Litters
Stan Lee X Linguini 2023
---
---
About the Litter (F4 American Alsatian)
5/23/23 Pandora/Linguini is having puppies early. Unfortunately, the puppies are too early, Pandora does not have milk. We will rebreed her one more time and if we do not get puppies, she will be spayed.
5/18/2023 Pandora/Linguini will be here at the house on the week of the 22nd. She is definitely pregnant! Lol
Interested:
6/5/2022 Angela Haar (Darker coat, yellow eyes with ring around the eyes. Male or Female)
---
---
Stan Lee X Neera 2023
---
---
About the Litter (F4 American Alsatian)
Neera X Stan Lee : After discussing repeating the Warleggen x Neera litter again to try and gain the male we lost, we have decided to change things up a bit. Warleggen produces too much facial hair for mom's liking and the pups lightened up more than expected.
This breeding will offer up doubling of Tudor and doubling of the Naga lines producing large, dark and dire wolf coated pups.
Coat color, eyes and ears: Should be long coated dark silver sables and darks with Yellow eyes and 60% up ears by 1.5 years old.
Coats: Double and long coated.
Weight: 110 to 125 females, 115 to 145 males.
Temperaments: 15% of the litter will be reserved and less forward. These pups will not be bothered by much. They will be watchers. They will sit with you if they must, but would be fine watching over you and just existing with you.
The majority of the litter will be intelligent and forward. Not overly energetic/friendly, but bold and okay with new things.
One or two at most will be happy, friendly outping pups. Lighter in bones and taller. Feminine faces, long tails.
Price: $2800 to $5200 Puppy Pricing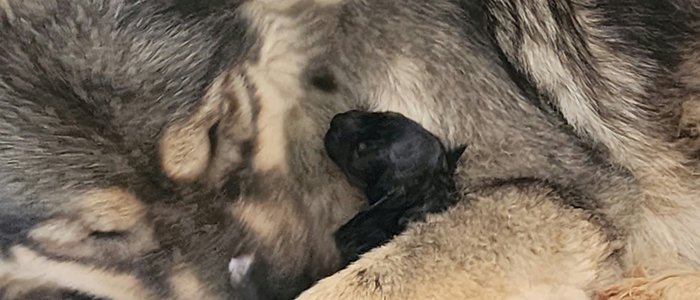 ---
---
Stan Lee X Needle 2023
---
---
About the Litter (F4 American Alsatian)
5/13/23 Needle tied with Stan Lee tonight.
WHY? Needle X Stan Lee Pups: Slanted eyes. Pedigree. Straight tail. Short Nose.
What we will get:
Coat color, eyes and ears: Up ears and yellow eyes. Coat colors will vary from dark silver sables. Brindles? All GS looking pups will be sold cheap.
Coats: Medium to short.
Weight: 70 lbs to 110 lbs (Lois and Amey agree)
Temperaments: Between 5 and 7 Temperament Scores
Price: $1,200 and up. (Dependent on litter size)
Needle's and Thread "Ophelia" Von Stan Lee
For Sale - $4200.00
Sex: Female
Collar Color: None
More Details
---
---
Stan Lee X Rita 2023
---
---
About the Litter (F4 American Alsatian)
5/29/23 Litter of mouths! Lol, active, working pups! They will jog, trail/hike/search and rescue, everything!
Right now, at this age, they are out of control! Haha lap therapy already, started training at 3 weeks! Must keep training until full grown!
No first time owners, single dog home (unless your dog is VERY well trained!)
5/11/2023 Perfect breeding, perfect pedigree. Rare colors throughout the litter, price is up on color, but because they are small, the price goes down. Hence the lower pricing on these pups. NOTHING wrong with these pups! They are great, but they are smaller.
Scout and stan lee, I LOVE these pups. They are so great, just as we knew, but wow are we thrilled. Mom is great. F4 personality with a FULL stamp of approval! No wire coats, shouldn't have facial hairs.
5/3/2023 First pup born at 731 this morning. She is a great mom and the pups are doing well.
Scout X Stan Lee Pups: This breeding is being done for a few reasons. One, and very important, Scout is the ONLY pup left with us here at the kennels from the Chibi/Susu line. These pups will bring the Mulan line from Bambi and Topper forward. Stan Lee is a fantastic male, but his nose and tail do not meet breed standards.
Short nose and short tail will be kept. Darkest pup, and with luck, we will pull forward a Bambi brindle coloring as well. We will be keeping two pups maybe more from this line. The pups will hold different genes in that they will be specific for coat, eye color and for the short tails and nose which are all recessive traits.
Coat color, eyes and ears: Up ears and yellow. Coat colors will vary from dark cream to a possible tri-color, white spotting and dark silvers.
Coats: Dire Wolf manes and coarse coats. Longer hair on the mane, shoulders and hips.

Weight: 95 to 135 lbs

Temperaments: These pups will be hikers, walkers, they will like the beach/camping and more active lifestyles. There may be one or two in the litter that are more laid back, but all puppies will be bold and forward. These puppies will welcome the world and it's adventures and love being with you while you share your world with them.
Price: $2,800 and up.
Interested:
*unless anyone on the list speaks up, at 6 weeks, these pups will be available to the public off the waiting list*
---
---
Stan Lee X Tiki 2023
---
---
About the Litter (F4 American Alsatian)
Why? Color, color color. We want brindles.
Tiki X Stan Lee Pups: This is the 5th try for Tiki to become pregnant. If she is unable to pass on her genes, she will be on her way to her new home. (To be determined based on the best home for her and for her new owners)
Anticipated pups:
Coat color, eyes and ears: Up ears, yellow eyes and rare black sables, dark silver, dark almost black and brindles.
Coats: Long, soft undercoats. Dire Wolf manes with feathering on butt and thighs.
Weight: 92 to 148 lbs (Amey's)
(Lois's) 78 to 120 lbs
Temperaments: These pups will range from soft, sensitive and reserved (1 of the litter) to bold/inquisitive. The bold pups will be soft in reprimanding and won't need much to get them back to you after investigating something, and willing to go on adventures with you. Short adventures, no longer walks as puppies. 2 of the litter will be forward and bold. Friendly with all and willing to go camping, light hiking and will enjoy company.
5/29/23 - Hyper, active pups, but not more than a GS. (We don't care about temperament in THIS litter. Color trumps temperament.)
Price: IF she can deliver a litter, we will most likely be keeping at least 3. Puppy Pricing Prices will be HIGH.
---
---
Stan Lee X Lucinda 2023
---
---
About the Litter (F3 American Alsatian)
The purpose of this breeding is to bring about the thick skull, yellow eyes and long guard hairs from both dogs. With our champion triple Boss on Stan Lee's side, you will get thick shoulders and thick hind ends with a nice, natural slope to their hind quarters and solid, thick bones.
Coat: Double coated, medium to long coats. 2 full blow outs spring/early summer and late fall of each year. They will lose their puppy coats the first spring blow out they have. There will be a tri color with white in the group and some dark silver sables.
Eyes: Yellow eyes
Ears: Up ears
Weight: Males will be 125 to 160 and females will be 105 to 120.
Temperaments: Very soft, loving pups. A bit stubborn when they want to just "lounge around" and you want to move, but it will be easily fixed by food motivation and the praise given from their owners. Easy pups to raise and to praise.
All pups will lighten as they get larger. Slow to grow with 4 growth spurts before they are 1 year old!
Price: (Our average pricing is $3,800)
These pups will be large and the largest of them may get up to 165. These pups can NOT do a lot of running around, playing, rough housing and NO DOG PARKS until they are at least 9 months old. Contracts will state that you are aware that their joints will be slow to fill and their bones will be LARGE. Our dogs are companion dogs, meant for you and your family, not play toys for your other dogs. You must be aware of this and be ambassadors for the breed by ensuring that they be trained to know their size and for you, as owners, to understand that some people are afraid of large dogs and you must be responsible to ensure that your large dogs have manners to ensure they do not frighten anyone without meaning!
Interested:
8/15/2020 Austin Sprague (male, if there is one from Stan Lee)
1/18/2022 Rick Anderson - Female


---
---
Stan Lee X Elsie 2023
---
---
About the Litter (F3 American Alsatian)
9/9/23 Solid, thick, quite pups. Elsie has thrown large pups before, and this time it is the same. These pups are only 3 generations from the Mastiff, so they will be very large. Solid bones, dense and heavy pups. 119 to 145 lbs.
9/3/23 Elsie has 4 puppies doing well at this time! Pictures soon and updates on the puppy pages!
So far, such a quiet litter and just as Elsie has done in the past, the puppies are large!
8/13/23 Elsie looks to be carrying a small litter. 2 maybe again?
7/3/23 Stan Lee and Elsie have tied. Elsie is known to produce very large pups, this litter will more than likely be anywhere from 112 lb on the larger females with males going upwards of 140. Smaller females and smaller males will stay a little under or slightly above 100 lb.
WHY? Elsie X Stan Lee: Ticking
What we will get:
Coat color, eyes and ears: Up ears and yellow eyes. Coat colors will vary from silver sables to cream sables with ticking?
Coats: Variety of long to short.
Weight: 75 to 120lbs (I believe a few of these pups will be slightly larger than 120)
Temperaments: Between 6 - 8.5 Temperament Scores
Price: $1,800 and up. (Dependent on litter size)
---
---
---