Neera's Stan Lee von Tudor
Notes
2/11/2022 Stan Lee brings a few truly wonderful things to the breed. He has striking yellow eyes already at this young age, as well as that they are slanted. Add this to his Wolf Sable coat color, and you have a strong winner to continuing to move forward on large, heavy/girthy, yellow eyed Dire Wolves. His ears are weaker than we would like, but they will all be up in his offspring. We will breed him to gals that do not have his double thick coat as well, to ensure that shedding is easier in the future. Can't wait for him to keep growing!
12/24/2021 - This litter is super quiet. Very pleasant to be around, thinkers and all very bold and uniquely colored. Keeper?
12/26/2021 Not the heaviest bones, and not the largest in weight, bu certainly the thinker of the group. This man has all of the characteristics of a long line of AA's but will have the look of his father and the thicker mane as well, all with up ears! The masks come straight from the Ana line.
1/1/2022 Fantastic pups, all of them. This boy shows all of the qualities of the Dire Wolf. Yellow eyes, up ears, solid confirmation. At three weeks, these guys are still seeing shadows move faster than their eyes can react, and their hearing is only getting better every day, but this boy hears your voice and follows it to you.
1/7/2022 Velcro, loves people, waits at your feet to see what you want.
12/29/2021 4.8 lbs
1/10/2022 7.4 lbs
1/17/2022 9.2 lbs
1/26/2022 14.6 lbs
2/3/2022 18.2 lbs
2/3/2022 18.6 lbs
Temperament Test 3.5 Weeks - 9.5
Interested:
2/4/2022 Ava Zeppa (Interested if/when he becomes available after breeding).
Health Record
1/17/2022 3/2/2022 Nemex II
1/19/2021 Corona
2/2/2022 & 2/19/2022 Duramane Max 5
Photo Gallery
Stan Lee March 2022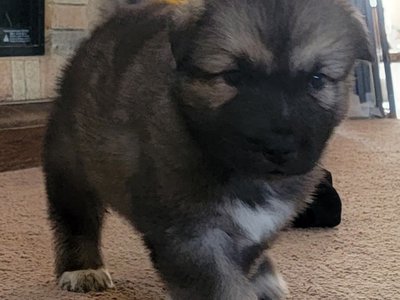 1/10/22
1/10/2022
Mr Stan the Man! 1/1/2022
1/1/2022
I have places to go... to my mom! 1/1/2022
15 days and going strong!
Growing boy.
15 days.
6 Days Old
6 Days Old
6 Days Old