Alpine's "Linguini" Von Noodle AKA Pandora
Notes
Co-owned with Atheena
5/15/2022 Tiny white toes nails and white tip tail. Black skin and two half socks on front.
5/20/2022 Thick tail base. Black pads, narrow head, long coat. Narrow build. Possible black and tan/black and silver.
5/25/2022 Eyes open.
6/5/2022 Likes to be held, big pup, long hair and undercoat. Active mind like this whole litter and when her mind is kept busy, she is settled.
Long gorgeous black coat with penetrating yellow eyes. Gives great hugs and bold/confident pup.
6/16/2022 This large, confident and bold female is Lois's pick at Schwarz Kennels and will go on to produce some stunning Dire Wolves! You can continue to see her here, as well as at Schwarz Kennels!
Temperament Score - Read this page!
Birth to 3 days: 8
2.5 - 3 weeks: 10
6 - 6.5 weeks: 10
Weight:
5/15/2022 1.76 lbs
5/20/2022 2.01 lbs
5/23/2022 2.34 lbs
5/26/2022 2.99 lbs
6/05/2022 5 lbs
6/13/2022 6.24 lbs
Health Record
Nemex II: 6/9/2022, 7/7/2022
Safeguard 6/20 - 6/23
Duramune Max 5: 6/27/2022, 7/7/2022, 9/5/2022
Photo Gallery
11/22/2022
6/30/22
6/30/22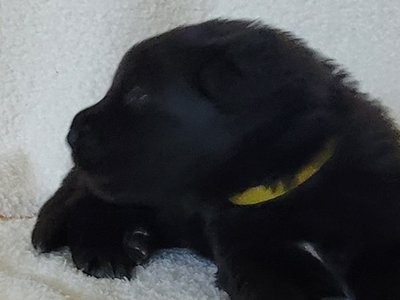 5/31/2022 Yellow Collar 1 of 3
5/31/2022 Yellow Collar 3 of 3
5/31/2022 Yellow Collar 2 of 3
5/15/2022
Alpine's Yellow