Lori's Christmas Lilly Zuzu Felocity Von Pepper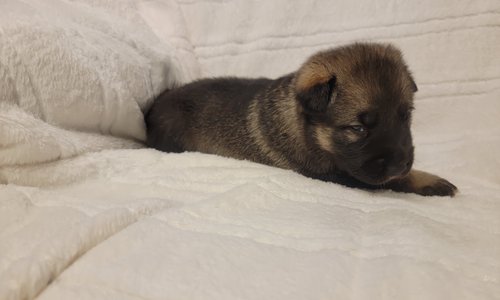 Notes
11-15-21: Female 4th pup. Black silver sable (reverse). female. Dark black sable. butt first black nose. Deep black. small white on tip of tail. left front toes white (3). Long body. good pigmentation. Blk Mask. small white on tips of toes. Breeder? blackish leggins.
11-17-21: Breeder? Price will go down if we decide to sell. Prices vary until all test scores are in.
11-27-21: This is a pick of the litter DIRE WOLF in color and should be a breeder if she continues on as she is doing. Better than parents of course. Thank you to our 'NAGA' to bring us this gal. Hard to let these pups go. Also hard to write up these notes knowing that the day shall come when we MUST relenquish some fantastic pups!
She will live up to 12-13 years and weigh 130+ lbs. She is all that a dire wolf SCHWARZ DOG can be. She is easy to train, loveable, hugable and sensitive to all around her. She is a thinker as they all appear to be, but she is a female and true to the feminine side of things, she will be her funny self. Should be able to go on short walks but watch her growth pallets.. large dogs should not be over worked. She needs good food and sleep for the first year of life until the plates close. You should not have any problems health wise if you feed properly and allow them to grow. A heavy dog, wide girthy. Settling down at a year old and being that fire side dog too soon as we wonder where that puppy went. Well, she will remind you as she will not know how large she really is, lol... A great dog to have fun with, to love on, to hold, to cuddle with.
SHOW STOPPER.. Another NAGA grandpup..
12-7-2021 - 7.8lbs
12-12-2021 - 8.2lbs
12-25-2021 - 12.2 lbs
12-30-2021 - 14lbs
12-6-2022 - 17.4 lbs
12-16-2021 This girl loves to be with her human, but also wants to explore. She will sit quietly in your lap (she needs lots of lap therapy! Get Lois's book to learn more about this!), but shortly into this, she is looking around, wondering what she can do next. She is very smart, but her mind is always going. You will need to think like her and be right with her, or one step ahead of this girl all the time! :) She will be large and will "think" she runs the house if you give her too much lead as a puppy.
12-25-2021 Little doll. She is beginning to show her "6 weeks" shy period a bit now. While she wants to explore, she gets farther away than intended, and doesn't look back to see where you are until she has gotten to the "unknown". When she is out of range of you, she needs confidence. Building her knowledge of basic things around her will be key, so that she is always aware of where she is and she will always remember that you are close by!
12-30-2021 Still just wants to check the world out. She wants to do it with you, but she is ready to see everything! Obedience training is key with her early. She is willing to learn and wants to please! Cuddler when she is in your arms, but not for long, as she wants to see the next big thing. She plays hard and sleeps even harder! This girl would make a great option for a service dog with the right trainer and the right owner.
Temperament Test Scoring 12/6/2021 at 3 weeks: 9.2
Health Record
12/7/2021; 12/25/2021 1/6/2022 NemexII
1/6/2022 Duramune Max 5
Photo Gallery
21 days old. Red Collar Female.
21 days old. Red Collar Female.
21 days old. Red Collar Female.
28 Days Old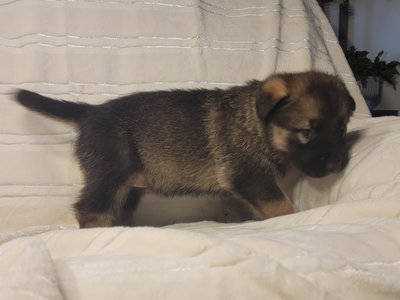 28 Days Old
Peek a Boo
So Inquisitive
Christmas Red Collar
Beautiful Lilly 12/30
Cat is getting closer 12/30/21
Lilly doesn't notice the cat!
6 weeks 2 days.