Lori's Peace on Earth "Paix" Von Pepper *Founders Male Standing at Schwarz Kennels*
Notes
*If you are interested in knowing more about this male, or his upcoming puppies, please contact the Founder, Lois at schwarzdogs@aol.com.*

11-15-21: Male. Black reverse. White spotting on all feet, toes only. Sm chest white line.10+ temperament. Head first. No sack. Turquoise collar. Keeper/Breeder/Stud. sm pink nose. w/toes both back feet. Head first. blk mask. very quite #10 temperament. medium coat. rubbed him with towel, turning over several times, not a sound. No fussing. Took it all in.
11-17-21: Prices vary until all test scores are in.
11-27-21: Paix (sounds like pecks) may still be a keeper, man is it hard to choose. I really like this boy. First to THINK and to choose a direction, he scores a very high 10+ so shall we keep this guy as an ace in our hands until the very second before the midnight 1200 clock striking? He has everything we need, except he does have more white spotting than the black collar pup.Big deal, a bit more white spotting on the feet. I say this litter is fantastic and you are getting some fantastic pups here.. So at this time, i am going to put his price up at 6,200.00 (Six Thousand, Two hundred dollars) and let the dice roll.. We shall see.
12-7-2021 - 7.2 lbs
12-12-2021 - 8 lbs
12-25-2021 -12 lbs
12-30-2021 - 14.6 lbs
1-6-2022 - 20.6 lbs
1/10/2022 - 20.9 lbs
12-16-2021 This boy is forward and wants to be with his brothers and sisters and loves to chew your socks and fingers to get your attention. He is sensitive, but also lacks a bit of confidence. You will need to show him the world, as with all our puppies, but this guy is quiet and though he acts forward and "big", he needs you to show him right from wrong and safe from not safe. During lap therapy, he wags his tale and waits for you to show him the "next thing". Would rather be doing something else than sitting there, but he will sit... if he has to!
12-25-2021 Very similar to Lime Green in that he is sweet and soft, but has a bit more energy on the ground than his brother. This boy will be easy to train, but will need reminders, as he gets distracted if you wait to long to let him know you want something. He will be the "leader" of the house if you let him, so keep a close eye on him and make sure that you always are one step ahead of him!
Temperament Test Scoring 12/6/2021 at 3 weeks: 9.5
Health Record
12/7/2021; 12/25/2021 1/6/2022 NemexII
1/6/2022; 1/24/2022 Duramune Max 5
Photo Gallery
3/28/2022
Paid 12/30/21
12/30/21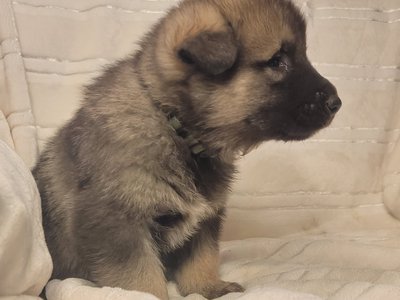 28 days old. Light Blue Collar Male.
Christmas Light Blue
Light Blue
12/25/2021
28 days old. Light Blue Collar Male.
28 days old. Light Blue Collar Male.
1/10/2022