Alpine's "Fusilli" Von Noodle
Notes
01/06/2023 Fusilli is the spitting image of her grandfather Naga. She might have different coloring, but this gal is built like a Dire Wolf. Solid, thick, double muscling and everything you want in a nicely built pup. She is a female, so she is still a silly gal. Wanting to play and be best friends with everyone she meets (that is her Great Grandmother coming out in her!), but starting to learn to settle a bit when asked. Still love lap therapy and attention and can't get enough of her food!
11/14/2022 Very solid female. Too forward and friendly, but females usually are at this age. Amazing coat, almost silky in texture. Soft, yet straight and easy to run your fingers through. She will have a nice undercoat to shed out 2 times a year, but it will be an easier blowout than some.
Loves lap therapy and a lover of all people. She will be brought in again soon, and taken out in town to get a feel for more things than just the farm. Love this gal.5/20/2022 Black Silver Sable with lighter Grey stockings off her white toes up to the knees on all four feet. Medium/short coat.
8/22/2022 Still a fairly quiet pup, she is coming into her own but still listens well. When she is told to do or not do something she thinks about it and almost immediately does what you ask. Ears are going up eyes are bright yellow. She will pass the sable gene and sable gene and minimal white spotting but dark sables and possible dark Brindle's if bred to the right male will show. Very excited to see what this girl will bring forward to the completion of the founders visions of the Dire Wolf look and size.
7/1/2022 Very adaptable pup. Nothing much bothers her. Friendly, but not too forward. Sensitive to raised voices and a thinker.
She watches from the back of the pack yet comes forward when asked. A bit narrow in size like her mom, but carries the genes of both the Noodle/Naga lines and the Kip/Elwin lines.
6/16/2022 Bold puppy with things to learn. Confident and intelligent, slightly smaller in stature. Feminine in structure.
She will be kept for the next generation of Dire Wolves and will be bred to a larger male that will slow down their minds. This next litter should hold 80% AA traits in the overall pups.
5/25/2022 Eyes open, very quite, curious.
Born: 5/16/2022 2:46AM
Temperament Scores: - Read this page!
Birth to 3 days: 8
2.5 - 3 weeks: 8.9
6 - 6.5 weeks: 9.6
Weight:
5/16/2022 1.46 lbs
5/20/2022 1.80 lbs
5/23/2022 2.26 lbs
5/26/2022 2.94 lbs
6/5/2022 5.1 lbs
6/13/2022 7 lbs
9/5/2022 52.8 lbs
Health Record
Nemex II:
6/9/2022, 7/7/2022, 5/12/23
Safeguard
6/20 - 6/23
Duramune Max 5:
6/27/2022, 7/7/2022, 9/5/2022, 6/13/2023
Heat Cycle: 2/2023, 8/2023 (2/2024 8/2024)
Photo Gallery
Sept 5, 2022
9/5/2022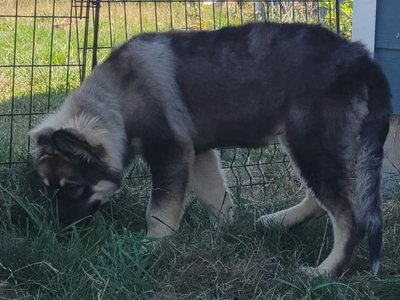 9/5/22
"Fusill(i)" 6/30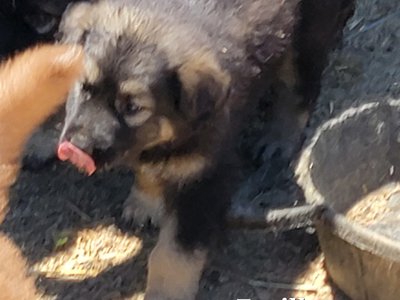 "Fusill(i)" 6/30
"Fusill(i)" 6/30
"Fusill(i)"
"Fusilli"
"Fusilli"
"Fusilli"
6/12/2022 Fell asleep during lap therapy.
5/31/2022 Pink Collar 1 of 4
5/31/2022 Pink Collar 2 of 4
5/31/2022 Pink Collar 4 of 4
5/31/2022 Pink Collar 3 of 4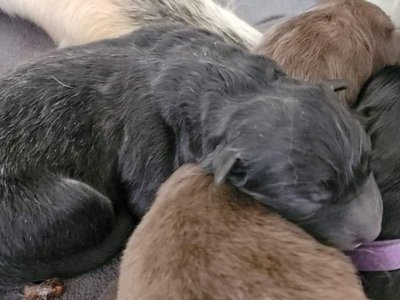 Last Arrival! 5/16/2022
Litters
Napkin's Just Nappin' Von Warleggen X Fusilli 2024
---
---
About the Litter (F4 American Alsatian)
---
---
Onyx X Fusilli 2023
---
---
About the Litter (F5 American Alsatian)
5/12/23 this litter is absolutely beautiful! It is everything you would want in an American Alsatian, long beautiful coats, exceptional coloring, up ears, and yellow eyes! This is the perfect client litter! We as breeders were limited to only one puppy lol, but that's okay! ( remember, as breeders, we look at genetics, not the overall look of the dog!)
With that said this litter will be held until 10 to 12 weeks old. They are very soft and will need compassionate hands in the first few weeks to months of their lives to adjust to the sights and sounds of all that you may enter into their new world. I will do a lot of this for you in the first few weeks. They will be crate trained, they will be potty trained, and they will go on car rides and to see new sites and sounds. Because I am keeping them longer, you will have to drive to pick them up or ship them cargo or choose a transportation company, these puppies will no longer be in the 20 lb range to be able to fly as an onboard carry.
4/22/2023 Fusilli's first pup came at 110PM. When she has had all of her puppies and is settled, I will get pictures and more updates.
3/21/2023 I'M CALLING IT!! Can't wait to see if Stan Lee has spme pups in their too! Wait for the laat 2 to come out and we shall see!!
Only tied with Stan Lee once before being moved to Onyx. Did not see a tie with Onyx, but we will wait and see.
Fusilli and Stan Lee Pups - This litter is for the genes. Onyx will be bred with her as well, as he is an unproven male, and we will chose the best pup(s) to move forward with the breed when they are born as always. This will push back the Anastasia/Vegas (shepherd) genes, and bring forward the Naga lines and the Boss lines. It will also allow Fusilli to have pups taller than she is, yet keep the solid bones and thick structure of the Naga lines.
The Onyx X Fusilli pups will be the ones you want if you are looking for a more serious dog! Large, solid boned and dark pups. Females will be squirly! Males will be thinkers.
Coat: Double coated, medium to long coats. 2 full blow outs spring/early summer and late fall of each year. They will lose their puppy coats the first spring blow out they have. There will be small white spotting (possibly a white chest or white paws) and most to all pups will have doggles around their eyes. Malamute looking. This is NOT what we want, but what we are getting here is the genes.
Onyx X Fusilli coats will be medium to long, but more dense in their coat at the base. Dark possible brindles.
Eyes: Yellow eyes
Ears: Up ears
Weight: Males will be 125 to 160 and females will be 105 to 120.
Temperaments: Very soft, loving pups. Forward, inquisitive and friendly. They will be solid, heavy, large pups though! You MUST know how to train them to be respectful in public and not get too silly as puppies. They will be great for families, or for the active family/person.
These pups will be dark! Slow to grow with 4 growth spurts before they are 1 year old!
Price:
Interested:
---
---
Lono X Fusilli 2024
---
---
About the Litter (F5 American Alsatian)
---
---