Alpine's "Fusilli" Von Noodle
Notes
01/06/2023 Fusilli is the spitting image of her grandfather Naga. She might have different coloring, but this gal is built like a Dire Wolf. Solid, thick, double muscling and everything you want in a nicely built pup. She is a female, so she is still a silly gal. Wanting to play and be best friends with everyone she meets (that is her Great Grandmother coming out in her!), but starting to learn to settle a bit when asked. Still love lap therapy and attention and can't get enough of her food!
11/14/2022 Very solid female. Too forward and friendly, but females usually are at this age. Amazing coat, almost silky in texture. Soft, yet straight and easy to run your fingers through. She will have a nice undercoat to shed out 2 times a year, but it will be an easier blowout than some.
Loves lap therapy and a lover of all people. She will be brought in again soon, and taken out in town to get a feel for more things than just the farm. Love this gal.5/20/2022 Black Silver Sable with lighter Grey stockings off her white toes up to the knees on all four feet. Medium/short coat.
8/22/2022 Still a fairly quiet pup, she is coming into her own but still listens well. When she is told to do or not do something she thinks about it and almost immediately does what you ask. Ears are going up eyes are bright yellow. She will pass the sable gene and sable gene and minimal white spotting but dark sables and possible dark Brindle's if bred to the right male will show. Very excited to see what this girl will bring forward to the completion of the founders visions of the Dire Wolf look and size.
7/1/2022 Very adaptable pup. Nothing much bothers her. Friendly, but not too forward. Sensitive to raised voices and a thinker.
She watches from the back of the pack yet comes forward when asked. A bit narrow in size like her mom, but carries the genes of both the Noodle/Naga lines and the Kip/Elwin lines.
6/16/2022 Bold puppy with things to learn. Confident and intelligent, slightly smaller in stature. Feminine in structure.
She will be kept for the next generation of Dire Wolves and will be bred to a larger male that will slow down their minds. This next litter should hold 80% AA traits in the overall pups.
5/25/2022 Eyes open, very quite, curious.
Born: 5/16/2022 2:46AM
Temperament Scores: - Read this page!
Birth to 3 days: 8
2.5 - 3 weeks: 8.9
6 - 6.5 weeks: 9.6
Weight:
5/16/2022 1.46 lbs
5/20/2022 1.80 lbs
5/23/2022 2.26 lbs
5/26/2022 2.94 lbs
6/5/2022 5.1 lbs
6/13/2022 7 lbs
9/5/2022 52.8 lbs
Health Record
Nemex II:
6/9/2022, 7/7/2022
Safeguard
6/20 - 6/23
Duramune Max 5:
6/27/2022, 7/7/2022, 9/5/2022
Photo Gallery
Sept 5, 2022
9/5/2022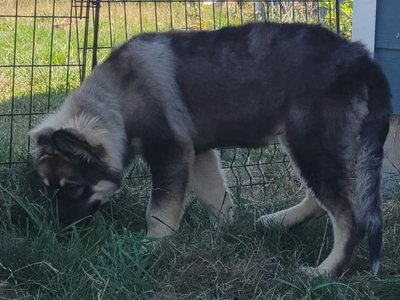 9/5/22
"Fusill(i)" 6/30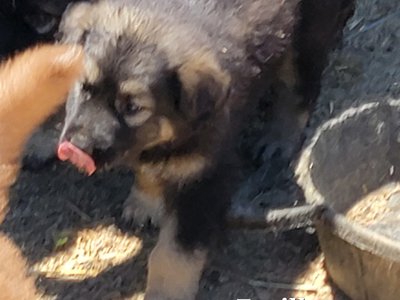 "Fusill(i)" 6/30
"Fusill(i)" 6/30
"Fusill(i)"
"Fusilli"
"Fusilli"
"Fusilli"
6/12/2022 Fell asleep during lap therapy.
5/31/2022 Pink Collar 1 of 4
5/31/2022 Pink Collar 2 of 4
5/31/2022 Pink Collar 4 of 4
5/31/2022 Pink Collar 3 of 4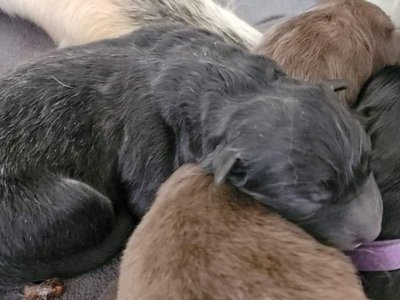 Last Arrival! 5/16/2022