Lucy's Macha Von Ironheart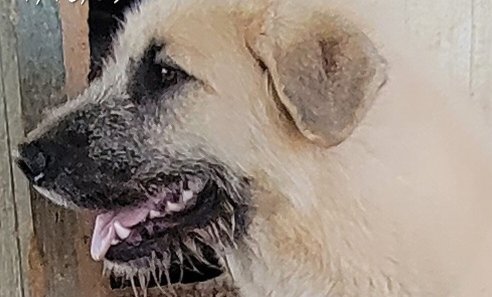 Notes
Interested:
Kelli Downey Appleby
5/10/2022 With the great bone structure of this gal, quiet demeanor and velcro personality, I have decided that this gal will be kept and moved forward to create our next year's American Alsatians!
She has yellow eyes, her ears will go up. She has the loving personality of her other Lucy, and the coat of what we believe a Dire Wolf would have. She is a silver cream and will lighten up to have silver/dark guard hairs on her shoulders, down her back and her undercoat will be an easy, but thisvk she'd during the early spring months. She will fill out by 1 and a 1/2 years old.
5/2/2022 This gal is bold, could be taken the direction of service work, (obviously with training and time), she will be confident enough to do aloof but friendly work. Very curious.
If a teacher or trainer gets her that can show her everything, she will fit into a confident and friendly dog. She will be great with kids and families as well. She would love going to practice with the kids and watching and learning. Remember to not engage the pups in sports, only watch until about a year old. This is how they learn. No hard work or "throwing them into the deep end" so to say. You will overwhelm them if you do this. Emotionally sensitive and easy to train,
4/17/2022 Easter Sunday. I had intended on updating these guys a bit earlier, but with all that has been going on, I did not get to it, so for that, I do apologize!
This gal is learning quickly. She is the first one to hear sounds around her and the first one to come and get pet and sit in your lap. Still a bit vocal, but only when her mom is ignoring her! :) Learning to eat solid foods and lap therapy has officially started! She is a pro! Loves to fall asleep within 5 minutes!
4/9/2022 This little girl is something else. Such a looker. This girl needs a confident owner that knows about large dogs. She will be huge! And she will need to be shown what her boundaries are, or she will think that it's fun to just do as she pleases.
Intelligent and a thinker, and she is learning to sing... (we are going to be teaching her quiet very soon!). She sings randomly while laying next to her mom and of course, Lucy isn't quite sure what it is that she wants! She of course I think, is just enjoying the fact that she can hear her own voice and is learning how it sounds and feels!
She will be great with kids, will enjoy going for walks and on short hikes or camping, but she will be large and wolfish looking, so she will need to be taught her size so that she doesn't run anyone over accidentally!
3/31/2022 Current thoughts on this gal. VERY large gal. Big head, thick bones just like her siblings and solid. Very quiet, busy eating and sleeping. Her color will lighten up as she grows, but not much and her dark tips should stay similar to Ironheart.
Very expressive girl and beautiful too!
Very large pup. Quiet as they all are. May keep this gal. 1.87 lbs at birth.
White tip on tail, white toes on all feet
Health Record
Temperament Score: 3/27/2022 9.7
Temperament Score: 4/17/2022 9.8
Worming: Nemex II
4/21/2022; 5/2/2022; 5/19/2022; 5/31/2022
Safeguard 6/20 - 6/23
Shots:
5/5/2022 5/19/2022; 6/14/2022 Duramune Max 5
Weight:
3/27/2022 2.05 lbs
3/28/2022 2.64 lbs
3/29/2022 2.7 lbs
4/2/2022 3.52 lbs
4/9/2022 5.34 lbs
4/17/2022 8.32 lbs
4/21/2022 9.2 lbs
5/2/2022 13 lbs
5/19/2022 20.2
5/31/2022 24.8 lbs

Photo Gallery
5/19/2022
May 19, 2022
4/12/22
4-3-22
Lucy's Cream Female Second Photo 4/3/2022
Lucy's Cream Female 4/3/2022
Hours Old 3/24/2022